Classic 2 Day Shore excursion
Highlights
Panoramic city tour by comfortable a/c bus with photo stops
Treasures and interiors of the Winter Palace - Hermitage
Catherine palace with Amber room at Tsarskoe Selo
Walking tour along Nevsky Prospect
Visit to Kazan Cathedral
Fountain Park at Peterhof
The Church of the Savior on Spilled Blood
Optional souvenir shopping
I offer visa-free private, individual tours and shore excursions. Please bear this in mind when comparing services and prices. Other guides and tour companies may quote for you joining one of their group tours.
Price: 490USD per person for a 2 day tour
To
book
a
tour
or
ask
any
questions
please
email:
[email protected]
Notes:
these prices are not applicable to single travelers
discounts are provided to 7 people groups or more
school children and students have a discount IF they provide their ISEC student card
depending on arrival day the order of the itinerary may need to be changed to allow for non-working days in museums etc.
What is included:
Professional licensed guiding service
Transportation by comfortable vehicles: car or minibus depending on the size of the group
No-line entrance tickets to all sights according to the program
Visa free waiver ticket for cruise passengers
Bottled water
About the tour
I do not start programs with a transfer to Pushkin or Peterhof as it is about a 1½ hour trip. In the beginning of the day it is just boring, but in the middle - after you have already been walking and sight-seeing for few hours it will provide a well needed rest, so you are refreshed for the next stage of the tour.

Standard programs can be changed in any way to meet your personal requirements. However the daily rate of a customized tour - depending on the inclusions - will come to 300-400USD per person per day against 245USD for a standard one.
Itinerary:
Day 1
9.45-10.00:
Meeting in the port
You will see me waiting for you once you have disembarked and cleared passport control.
10.00-11.00:
Panoramic City tour
Start the tour with a panoramic ride along the streets and embankments of the city in a comfortable minibus. Hear about the history of the city while seeing some of the most famous sights the city has to offer.
11.00-13.30:
Hermitage
tour.
Marvel at the magnificent interiors of the winter palace while viewing the stunning collections of European art which are displayed in the museum. I am happy to adapt the tour to your interests: it can be focused on the history of Russian royal family plus the most impressive interiors OR on the art collection - we can agree it in advance.
13.30-14.30:
Lunch or coffee break at a local cafe.
14.30-15.30:
Travel to
Tsarskoe Selo
Situated in the town of Pushkin a few miles from St. Petersburg this is the famous former suburban imperial residence of Russian tsars in St Petersburg which they used in the summer. After several hours of sight-seeing you may even appreciate the rest that the short journey affords. As an added benefit we will pass by some interesting sights enroute.
15.30-17.00
Catherine palace
This is the main visitor attraction at Tsarskoe Selo for good reason. Here we will see spectacular state rooms intricately decorated, interesting art collections and as the crowning glory we will visit the famous and incredibly beautiful Amber Room. Next we will walk in the formal garden of the palace, moving into the landscape park, and enjoying as we go the sights of the surrounding decorative statues and pavilions.
17.00-18.00
Transfer back to your ship.
Optional stop enroute for
souvenir shopping
.
You can buy many interesting and unique souvenirs in Russia such as Replica Fabergé Eggs, Porcelain, Lacquered Boxes, Amber items - and of course our famous "matryoshka" nesting dolls.
Day 2
8.45-9.30: Meeting in the port - transfer to the city center
9.30-10.15:
Short
walking tour of Nevsky Prospect.
Named after Alexander Nevsky, a prominent warlord and legendary figure in Russian history, it is the main street in the city center. Here we will see many interesting buildings like Gostiny Dvor, Stroganov Palace, Kazan Cathedral to name but a few.
10.15-11.30:
Transfer to
Peterhof
by comfortable mini-bus.
We will travel a short distance to Peterhof. Situated by the gulf of Finland this palace and amazing fountain park was founded by Peter The Great and is listed as a UNESCO World Heritage Site.
11.30-13.00:
Fountain park
of Peterhof.
With over 140 fountains it is no wonder that Peterhof is often referred to as a Russian Versailles. In addition to the impressive Grand Cascade and magnificent Samson fountain we will see many other interesting and beautiful fountains and statues. As we stroll around the park we will even see funny trick fountains which amuse both children and adults alike.
13.00-14.00: Lunch in a local restaurant.
14.00-15.00
Transfer back to the city center
If time and traffic allow we will pass by some city landmarks on the way back from Peterhof.
15.00-16.00
Church on the spilled blood.
We will tour St Petersburg's most elaborate church marvelling at the dazzling exterior and an interior decorated with some 7000 sq metres of mosaics, Italian coloured marbles and decorative stones from the Urals and Altai region.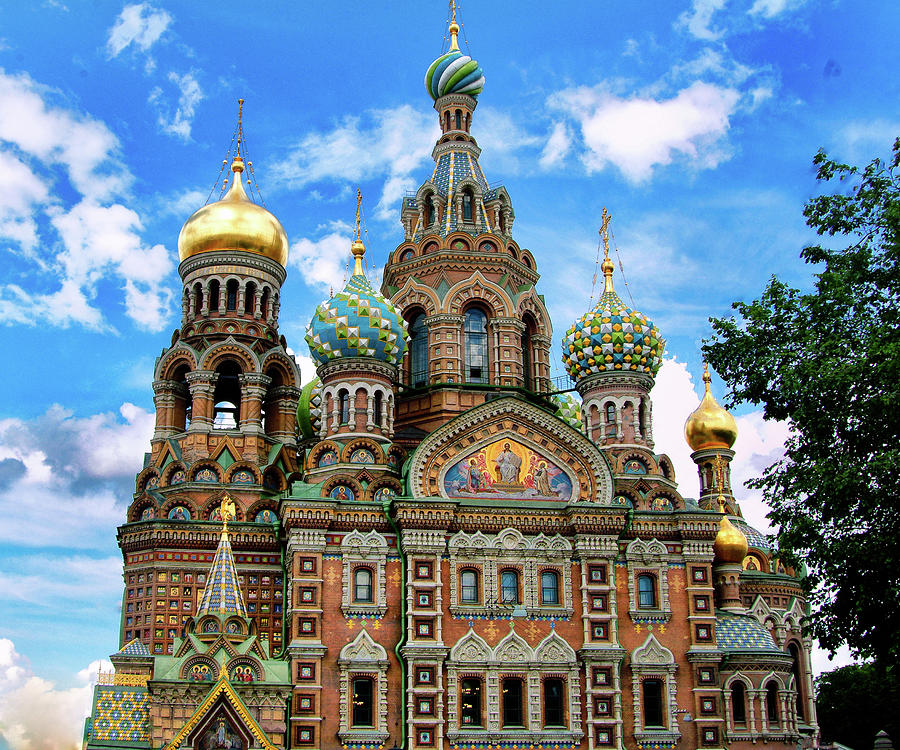 16.00-17.00
Transfer back to the ship
Return back to the ship and bid farewell to St. Petersburg.